Value %: (prime/ off-prime)
GRP:
Number of media contacts:
Cost of the 1st media contact:
Daily exits:
Total outputs:
Total seconds:
Cost per second:
ОТВ - информационно-развлекательный телеканал.
Вещает 24 часа в сутки на территории Челябинска и Челябинской области на 21 кнопке всех кабельных операторов.
Эфирным вещанием ОТВ охвачено 79% территории Челябинской области. С учетом распространения в сетях операторов кабельного и спутникового телевидения и зрителей спутникового пакета "Телекарта" аудитория телеканала ОТВ составляет свыше 3 миллионов человек.
Карта вещания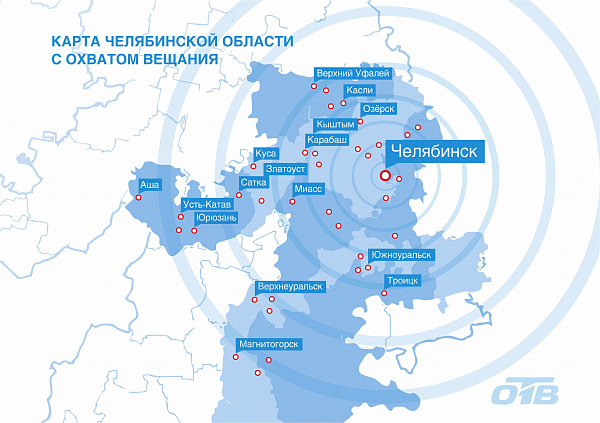 There are no reviews yet for this product.
Be the first person to add your review.
Reviews can be left only by registered users.


We support the following payment options for advertising:
To the current account under the contract
Bank transfer through a mobile bank for individuals (under the offer agreement).

Advertising is launched after 100% prepayment.
The invoice is automatically billed in your account after the seller confirms the order.
In case of late payment, the schedule for advertising may move.

If you have any questions about payment, call the toll free number +7 800 1002 592
The seller provides a report on the release of advertising after the end of the advertising campaign.

If the advertisement is not made through the fault of the seller - the seller compensates for the output of the advertisement as agreed with the customer